Pulse Magnetiser
Ferronato M2T-1
Generates pulses to 2 Tesla.

Well suited for IRM (Isothermal Remanent Magnetisation) studies on rock samples, in Paleomagnetism laboratories.

Useful also in many applications in where a brief but strong magnetic field is needed.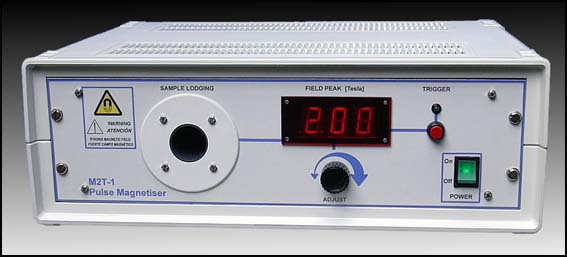 Specifications
Pulse amplitude:
Adjustable, from 0.02 T to 2.00 T.
Pulse width:
4.5 ms ± 5 % at its base (larger width); 2.8 ms ± 5 % at half amplitude.
Reading precision:
Error of less than ± 5 % + less significant digit, for pulse amplitude.
Pulse repetitibility:
Better than ± 1 %, in pulse to pulse amplitude.
Display type:
Digital, 3 digits of 25.4 mm, 7

R

ed LED segments.
Display ranges:
Two, automatic, in Tesla. Resolution (1) = 0.001 T from 0.02 to about 0.15 T. Resolution (2) = 0.01 T from 0.15 T to 2.00T.
Sample lodging capacity:
It is 36 mm in diameter. Admits standard rock samples (Diam. 25 x 22 mm cylinder) or smaller.
Field homogeneity:
Better than ±

1

% for a volume equivalent to a Diam. 25 x 22 mm standard sample.
Pulse to pulse time:
It is "Ready" in less than 15 seconds in between 2.00 T pulses. Less time for lower fields.
Power voltage:
230 V ac ± 5 %.
Consumed power:
145 VA, maximum. 100 VA while not triggered.
Enclosure:
Aluminium module for 19" rack (3U), mounted in a

strong

ABS plastic box.
Dimensions:
Width 528, length 430, height 187 mm, maximum.
Weight:
14 kg.
Warranty:
Two years.
Includes a sample holder for Diam. 25 x 22 mm standard samples, on any of its three axes. It is suitable also for smaller samples.
These specifications are subject to change without prior notice.
---
For any enquiry, please, contact to:
Serviciencia, S.L. - Tel: (+34) 925 536154 - Fax: (+34) 925 537644 - E-mail: serviciencia@serviciencia.es
---
Optimizado para 800 x 600 - © Copyright 2002 Serviciencia, S.L. - Todos los derechos reservados
---